According to reports gathered online, an unusual glitch is affecting Samsung users causing the default Samsung Messages app to send random photos to their list of contacts. Since the messages were sent without consent (and apparently with no evidence), users were only made aware of the bug once they get a reply from someone who received their photos.
The issue appears to be limited though only to the newer Samsung Galaxy devices – the S9, S9 Plus, and Note 8.  The images sent seem to be just random picks from the user's photo gallery.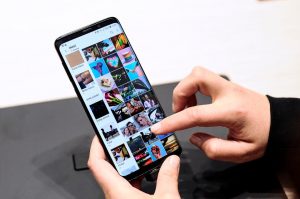 Samsung, on their part, has already acknowledged the said reports. "We are aware of the reports regarding this matter and our technical teams are looking into it. Concerned customers are encouraged to contact us directly at 1-800-SAMSUNG."
For the time being, concerned Samsung owners can resort to other messaging applications or simply disable sending photos entirely via their phone settings. This can be done by going to Settings > Apps > Samsung Messages > Permissions > Storage. By doing so, it should prevent the pre-installed Samsung Messages app to access the photo gallery by disabling its storage permissions.
It is also recommended that users may hold off installing the latest Samsung Messages update until the company will be able to fix the issue.