Is your browser getting pop-ups and gets redirected to the webpage omgnews.today? If so, you may be infected with an adware. The website itself, omgnews.today, is actually legit. There are just some adware programs that are placing intrusive ads without the publisher's permission to generate revenue.
The said adware will attempt to commandeer your browser search and homepage sending you to malicious websites to get money from you or infect your computer further. It may also prevent you from changing your settings back, eating up system resources and slowing down your PC's performance.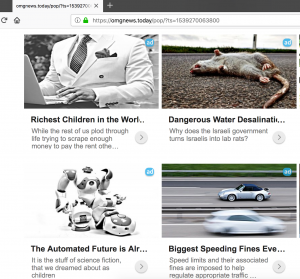 The adware omgnews.today redirect is usually installed through bundled software without you knowing. Be wary when double-clicking inline advertisements or pop-up ads because sometimes malicious software comes along with it.