Is your Mac getting the pop-up "This Mac computer is BLOCKED" supposedly sent by Apple Support? This alert is obviously fake and you're infected with an adware. The scam will force you into calling the toll-free number provided and it will trick you to pay a certain amount that will "solve" the problems the pop-up has listed.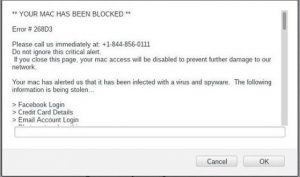 When you click the message, the adware will try attempt to commandeer your browser search and homepage. It will also send you to malicious websites to get money from you or infect your computer further. It may also prevent you from changing your settings back.
The 'This Mac Computer is BLOCKED' pop-up scam is usually installed through bundled software without you knowing. Remove this adware immediately before they collect personal data from your browsing history and logins, and bombard your computer with loads of pop-ups.